The Control Center is located in a central position in the Administration Hall.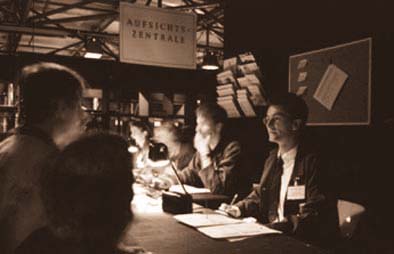 All administrative activities are organized from this counter. These personnel coordinate the event among the several hundred readers, the hierarchical staff of archivists and bureaucrats, making sure that each individual and each archive file is at the correct place at the right time and that the Master Protocol is followed meticulously.

All telephone lines throughout the installation lead singly to the Control Center, where often ten or more telephones are simultaneously ringing.
Enclosures:
Head Administrator/Protocolist
Asst./Protocolist
Public Address Announcer
Master-Protocol
Voluntary Reader Registration
East & Central European Word Pronunciation Service
Information